Back to all posts
Posted on
Hot Dog Thanksgiving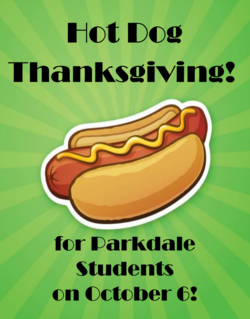 Parkdale will be celebrating Thanksgiving on Thursday, Oct 6th by giving each student a hot dog for lunch!  Our Staff will be cooking the hot dogs and our Leadership students will help pass then out.  The Leadership students will also be available to assist with condiments.  
Parents please send snacks and additional food with your child.  A hot dog is a nice treat, but is not enough for a child for an entire day.
Thank you everyone and have a great Thanksgiving weekend!