Back to all posts
Posted on
Attendance Matters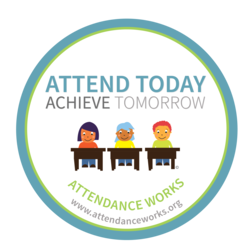 With a new year upon us, now is the time to reinforce good attendance habits in your children.  We need to get back on a regular bedtime schedule and predictable morning routine.  Every day away from school is a missed opportunity for learning.  We want to see each and everyone of our students everyday!
Did you know: 
-Missing 10%, or 2 days a month, over the course of the school year, can affect a student's academic success
-Students can still fall behind if they miss just 1 or 2 days every few weeks
-Absences and late arrivals can affect the whole classroom
Attending school regularly helps children feel better about school - and themselves.  Start building this habit early so they learn right away that going to school on time, every day is important.  Eventually good attendance will be a skill that will help them succeed in high school and beyond.