Back to all posts
Posted on
Back to School Information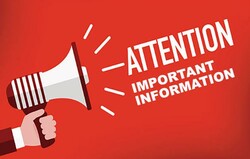 Some important information for parents and guardians as we get close to back to school on Wednesday.
1) Supervision starts on the playground at 8:30 am in the morning. School starts at 8:55 am.
2) There will be NO microwaves in the classrooms. The electrical outlets will not facilitate the use of microwaves.
3) Dress appropriately for the weather.
4) The school day ends at 3:18 pm.
We look forward to seeing everyone on Wednesday.