Back to all posts
Posted on
Tacos at Parkdale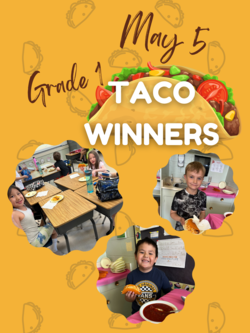 Superintendent Mike Wake gifted students at Parkdale school with a Taco lunch.  He sent over a kit filled with beef, chicken, rice, lettuce, cheese, and all the toppings for both hard and soft tacos. 
This was offered to the class that was the first to answer the question, "What do you call a cold taco?". 
Our grade one class was speedy with their answer of "a burrrr-ito". 
They were able to make and enjoy a delicious taco on Friday. 
Big thanks to our Superintendent for his kindness.