Athletics
Wolfpack Athletics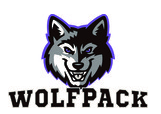 We are part of the Leduc and District Athletic Association, which serves Wetaskiwin Regional Public Schools, Blackgold Public Schools, Star Catholic Schools and the Education Authorities of our First Nations to the south of Wetaskiwin.
This year, Wolfpack athletics is hoping to participate in golf, cross country, volleyball, basketball, badminton and track and field.
ANY QUESTIONS ABOUT WOLFPACK ATHLETICS SHOULD BE DIRECTED TO MR. WHITE.
Wolfpack Girls Volleyball is hosting Gwynne on Tuesday, October 15. Come watch the girls, as they continue their successful season so far.  Next week the girls travel to Millet.
Boys playing Volleyball play against J.E. Lapointe, and are hosting at Queen E.  Next week the boys travel to Covenant Christian (just south of Leduc).