Athletics
Wolfpack Athletics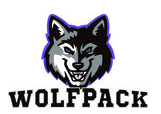 We are part of the Leduc and District Athletic Association, which serves Wetaskiwin Regional Public Schools, Blackgold School Division, Star Catholic School Division, Evergreen Catholic School Division, Wild Rose School Division and the Maskwacis Education Authority.
Each year, Wolfpack athletics is hopes to participate in golf, cross country, volleyball, basketball, badminton and track and field.
ANY QUESTIONS ABOUT WOLFPACK ATHLETICS SHOULD BE DIRECTED TO MR. WHITE.
<><><><><><><><><><><><><><><><><><><><><><><>

The LDAA is looking at proceeding with a portion or all of its regular events and leagues for the 2021 - 2022 season. At this point, there are NO spectators allowed at any LDAA events held indoors.  This decision will be revisited throughout the remainder of the athletic seasons.

<><><><><><><><><><><><><><><><><><><><><><><>
We will follow our practice schedule starting Jan 12.  
**WRPS has decided at this time to suspend all extracurricular events until further notice. We are still allowed to practice.**
Please pay attention to announcements, Phys. Ed. classes and this section of our website for further details on LDAA activities.
UPDATED: January 19, 2022