Athletics
Wolfpack Athletics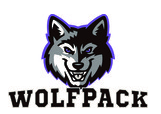 We are part of the Leduc and District Athletic Association, which serves Wetaskiwin Regional Public Schools, Blackgold Public Schools, Star Catholic Schools and the Education Authorities of our First Nations to the south of Wetaskiwin.
This year, Wolfpack athletics is hoping to participate in golf, cross country, volleyball, basketball, badminton and track and field.
ANY QUESTIONS ABOUT WOLFPACK ATHLETICS SHOULD BE DIRECTED TO MR. WHITE.
Badminton South Playdowns start 3:45 on Tuesday, April 16th.  Badminton practice will be Monday from 3:45 to 5:00.  Juniors are playing at Sacred Heart School, while Intermediates are at Ecole Queen Elizabeth School.  Permission forms and team fee ($10) are online.  Players will have a meeting on Monday, to review all the necessary information.  Those who qualify will go to the LDAA Finals on April 24th.
—- updated April 14, 2019 —-