Athletics
Wolfpack Athletics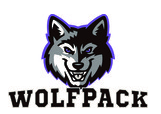 We are part of the Leduc and District Athletic Association, which serves Wetaskiwin Regional Public Schools, Blackgold Public Schools, Star Catholic Schools and the Education Authorities of our First Nations to the south of Wetaskiwin.
This year, Wolfpack athletics is hoping to participate in golf, cross country, volleyball, basketball, badminton and track and field.
ANY QUESTIONS ABOUT WOLFPACK ATHLETICS SHOULD BE DIRECTED TO MR. WHITE.
Basketball season is underway.  Girls practice Monday 5:30 - 6:30 at Queen E and Thursday 3:30 - 5:00 at Parkdale.  Boys practice Wednesday 5:30 - 6:30 at Queen E and Thursday 4:30 - 6:15 at Parkdale.
Season Schedule is as follows: (Our home games are played in the Queen E gym.)
Jan 15     host Queen E [girls and boys]
Jan 22     Girls @ Holy Spirit (Devon).         Boys @ Clear Vista
Jan 28     Boys host Griffith Scott
Jan 29     Girls @Dansreau Meadows (Beaumont)
Feb 05     host Norwood [girls and boys]
Feb 12     Girls @ Thorsby.                            Boys @ Ermineskin
Feb 20     Boys host Cenntennial
Feb 26     Girls host Ftaher Leduc                Boys host Calmar
—- updated January 21, 2019 —-