Athletics
Wolfpack Athletics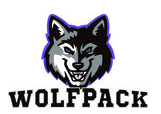 We are part of the Leduc and District Athletic Association, which serves Wetaskiwin Regional Public Schools, Blackgold Public Schools, Star Catholic Schools and the Education Authorities of our First Nations to the south of Wetaskiwin.
Each year, Wolfpack athletics is hopes to participate in golf, cross country, volleyball, basketball, badminton and track and field.
ANY QUESTIONS ABOUT WOLFPACK ATHLETICS SHOULD BE DIRECTED TO MR. WHITE.
<><><><><><><><><><><><><><><><><><><><><><><><><><>
ALL LDAA ACTIVITIES HAVE BEEN SUSPENDED UNTIL FURTHER NOTICE.
<><><><><><><><><><><><><><><><><><><><><><><><><><><>
SPORTS NEWS!!!
Although volleyball season was not able to go this year, we are hoping to give those students who are interested in playing a chance.  This will be a coed program and be open to Grades 7 and 8.  Like a traditional season, practices are going to be skill development focused, and games will follow the regular league rules.  We would run practices from 3:30 to 4:30 (no one is allowed in the building after 5:00) and play games within the group of students who attend practices.  The two teams will be made up of those who are at practice, since competition with other schools is not allowed at this point.  
Because this is open to Grade 7's and 8's, this would be considered another cohort grouping by Alberta Health Services.  Ms. Gallant and Mr. White will be helping run the program.  Student's must be picked up at 4:30, to stay within WRPS rules as to hours the school can be open.  Unfortunately, no spectators will be allowed to attend (this includes siblings who attend Parkdale).  At this point we appear to have the interest of 15 students, but they must get permission from the appropriate person(s) at home.  Permission slip should accompany this letter and we have hopes of starting Wednesday, November 18th.  Without a permission slip, the student CANNOT remain at the school and participate.
Practice/Game nights will be Wednesday and Thursday.
    Nov 18         -- PD Day on Nov 19.             NEW PROVINCIAL RESTRICTIONS
    Nov 25         Nov 26.                                WILL SUSPEND THESE DATES
    Dec 02         -- Parent Teacher Interviews are Dec 03
    Dec 09         Dec 10                                 NEW DATES MAY BE CONSIDERED
    Dec 16         Dec 17                                 IN THE NEW YEAR

-- updated 11:00 pm, November 25--